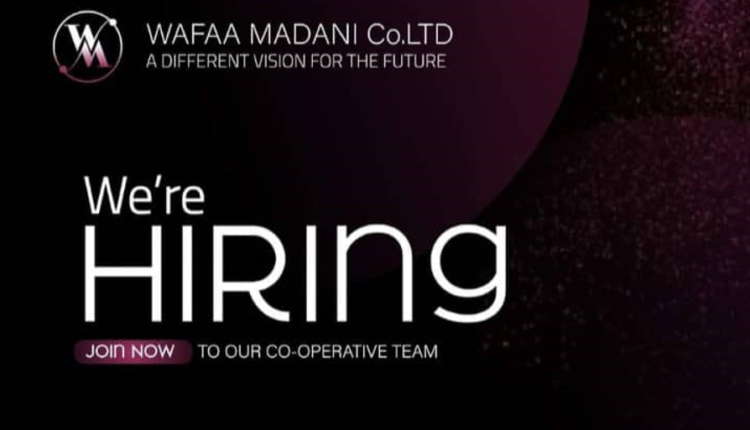 (Wafa'a Madani) We are Hiring
1.Marketing Manager
we are looking for a skilled marketing manger to work with us at (Wafa'a Madani )
We are creating a team for our startup company .. If you worked for a startup or you were an entrepreneur your self .. this will give you extra points .
marketing manager duties include:
Working with the executive team, such as the CEO and business development manager, to set the marketing strategy for the business.
Hiring and managing the performance of a more junior marketing team that can also include PR and creative staff.
Researching and analysing market trends and competitors.
Overseeing marketing campaigns.
Tracking effectiveness of marketing campaigns and reporting findings to the executive team.
Negotiating and liaising with third-party marketing agencies.
Writing and delivering content and social media plans in collaboration with the social media specialist.
Looking after the budget of the marketing department and making sure the budget spend is delivering a return on investment.
Managing the design and production of promotional materials, such as websites and brochures.
Overseeing the company's attendance at events, such as trade shows, conferences, and festivals.
Education and Experience Requirements:
Bachelor's degree in marketing or business administration or any related field.
MBA preferred
CIM preferred
Two to three years of experience as marketing manager
2.Social Media Specialist
Social Media Specialist Job Description:
Develop, implement and manage our social media strategy after conducting competitive research, platform determination, messaging and audience identification
Plan, create, publish and share new content (including original text, images, video and code) on a daily basis that builds meaningful customer connections, increases brand awareness and encourages community members to engage with the brand
Collaborate with sales and marketing teams to develop social media campaigns
Stay up to date with the latest social media best practices and technologies
Set up and optimize company pages within each platform to increase the visibility of company's social content
Moderate user-generated content in line with the moderation policy
Collaborate with sales, web design, web development, digital marketing, customer relations and product development teams
Create editorial calendars and syndication schedules
Capture and analyze the appropriate social data/metrics, insights and social media best practices to measure the success of every social media campaign, then use that information to refine future campaigns
Education and Experience Requirements:
Bachelor's degree in marketing or business administration or any related field.
MBA preferred
CIM preferred
Two to three years of experience as social media manager
How To Apply :
send your CV to :
Work location: Al Mashtal Street – Khartoum

Application deadline: before 15/1/2022