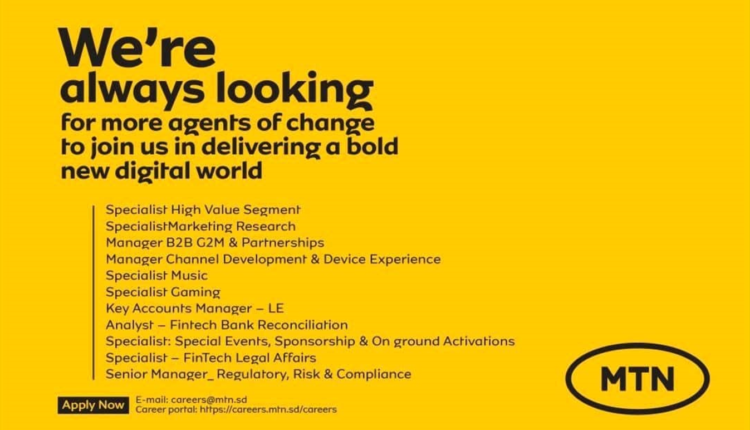 Our Vision:"To lead the delivery of a bold new digital world to our customers"
Our Mission:"To make our customers lives a whole lot brighter"
Required for employment in the company MTN SUDAN the following jobs:
1.Senior Manager Regulatory Risk and Compliance
Job Category: MIS Reporting & Analytics
Division: FinTech
Location: Al- Khartoum
Job Summary: 
The role is responsible of ensuring proper management of public policy in line with prevailing regulatory framework and MTN FinTech Group guidelines, responsibility of FinTech Business Risk and leading the development, implementation, and management of the compliance programs for internal PPPs and external laws and regulations, this role also responsible for ensuring that Mobile Money and any other qualifying service offered are compliant with provisions of Financial institution for mobile money Guidelines, Anti Money Laundering (AML) and other related legislations
Description: 
Define MTN FinTech position, develop and execute advocacy strategies on key regulatory developments and public policy agenda and directives.
Environmental scanning and monitoring to identify policy, legislative and regulatory issues that may impact MTN FinTech business.
Proactive stakeholder management to keep stakeholders informed of regulatory developments and provide continued relevant strategic guidance.
Drives the strategic framework of enterprise Risk & compliance, effectively manage risk exposures, drive entity level controls and implement internal & external compliance that will result in enhancement of Risk appetite and business growth
Drive control of within FinTech functions, including implementation of Risk Management, controls, tools and systems to effectively identify, measure, monitor and report
Review internal and external business environment and provide input into the development of plans for the roll-out of Risk Management in conjunction with the FinTech business units, in alignment with the Group FinTech Risk Management Framework.
Enhance Ethics management and ensure successful implementation of Ethics strategy elements.
Drive Ethical practices, disciplinary committees and enhance Fraud free culture,
Build and maintain a compliance universe for both regulatory obligations and policies and processes, that will be used as the base for development, enhancement, monitoring and oversight over compliance requirements in this space
Development and implementation of PPP's to guide effective operational compliance, ensure adherence to financial institution for Mobile money guidance to mitigate and prevent fraud risk exposures.
Monitor the effective cascading of the Compliance strategy into the Compliance Monitoring business plans to ensure vertical alignment and horizontal integration with other interfacing strategies
Manage all aspects related to product price, competition, interoperability, access and consumer protection – all underpinned by robust ROI models
Drive and monitor regulatory compliance and governance processes and monitor license obligations and rights as applicable to the company.
Drive continuous improvement on standardization of processes across MTN FinTech along with business units leading to an improved internal control environment
Provide timely and quality reports to stakeholders including escalation/acceptance of risk issues in line with appetite and escalation/acceptance policy & process.
Co-ordinate Regulatory information gathering and provide reports as per regulators' requirements. Ensure regulators requests are adequately met including consultation papers.
 
Provide Enterprise Risk Management reports to stakeholders and contribute to reports to Audit and Risk Committee on a quarterly basis
Execute compliance review programs to determine organisational vulnerabilities and highlight risks
Secure Regulatory approvals as per business requirements
Regulatory awareness raising and provision of advices and support business and support functions
Develop and implement initiatives and programs for periodic assessment of the effectiveness of AML/CTF & STR compliance with regards to mobile financial services licensing requirements.
Ensuring the AML/CFT and related policies are up to date and adequate to address ML/TF risk
Establish training programs on monitoring and testing requirements. Create awareness within the business on compliance monitoring and testing programs and methodologies
Ensure operational compliance with all regulatory submissions and requirements for AML/CFT
Regularly monitor and review resources of the department ensuring they are allocated and utilized in a cost effective and financially disciplined manner.
Adhere to the system of management reporting requirements that provides timely and relevant information on all aspects of Risk & Compliance issues to management and Group
Ensure personnel are adequately trained, supported and on-boarded to complement FinTech strategic delivery positively
Coach and mentor the team members to ensure understanding of the objectives and goals of the department, awareness of all related job requirements and accountabilities and leverage human resources career development programs for staff career development.
Performs Ad-Hoc duties as assigned by management
Job Requirements: 
Bachelor's degree in Business Administration or a related discipline.
Professional Certifications in (e.g. AML Certification, Compliance Management, Risk Management).
MBA / Masters advantage.
Minimum 3 years work experience in leading Regulatory management.
Minimum of 3 years work experience within a Risk & Compliance or related function of an (preferable service) organization or Audit firm and/or related field.
Proven track record in multinational/global environment (Telecommunication/Banking companies)
Required Skills: 
Operations management.
Stakeholder engagement and relationship maintenance.
Auditing & Risk Management.
Understanding of external best practice in related field
Closing Date: Tuesday, March 8, 2022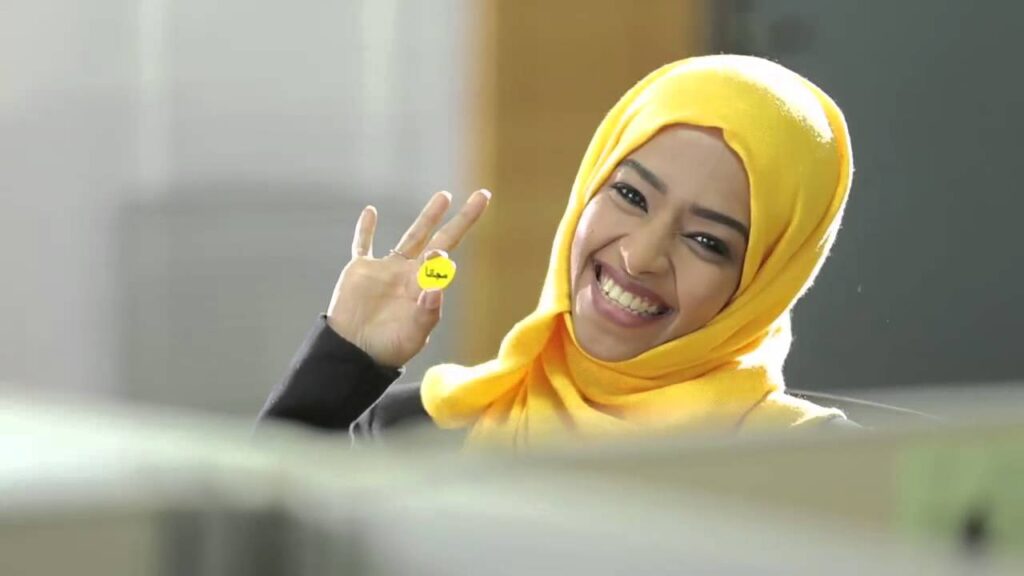 2.Specialist FinTech Legal Affairs
Job Category:Legal
Division: Corporate Services
Location: Al- Khartoum
Job Summary: 
The role is responsible of the Management of Contract Drafting, Review of Standard Contract Terms, and Safe Keeping of Contracts, also be responsible for engagement with external advocates and ensuring MTN Sudan FinTech's interests are protected in all litigation matters handled by the external firm in addition to supporting company secretarial activities.
Description: 
Draft and/or review legal documents such as Non-Disclosure Agreement, Finance Agreement and many others related to MTN Sudan FinTech
Ensure that all contracts are fully safeguard the company, both in terms of legal content and drafting errors that affect the professional look of the contract, are caught and rectified before finalizing for signatures
Ensure that all contracts are in line with the general policy and in favour of MTN Sudan FinTech and protected from any potential risk
Ensure that all contractual obligations and legal documentations signed between the company and third parties comply with MTN Sudan FinTech Company PP, internal rules & regulations as well as Sudanese applicable laws.
Keeping track of any escalations with regards to contract drafting delays or feedback from customers where a decision cannot be made by the Legal
Carry out due diligence tasks in order to prepare legal reports
Coordinate with the company Law firm (s) in order to provide MTN Sudan FinTech with the right legal opinions and make sure that all above tasks are validated in timely manner.
Coordinate with company Division & Department heads in order to make sure all decisions are lawful & minimize the risk of litigations
Litigation matters are handled by an external law firm, therefore the role of Legal with regards to Litigation is to oversee the activities of the law firm to ensure they are providing the services in line with the contract terms
Liaising with the law firm in terms of ensuring that all information the law firm requests is submitted to them, ensuring that all matters that may give rise to civil cases are shared with the law firm in good time, ensuring that the law firm submits their monthly reports on time etc.
Determine the gaps/loopholes in the company's policies and procedures that give rise to legal claims against MTN Sudan FinTech and determine how these can be closed to avoid the litigation matters
Work closely with staff to prepare a comprehensive brief on each case that goes to trial if any.
Support Legal head in related company Secretarial issues such as preparing the board packs, drafting resolutions, talking minutes of board meetings, sharing & following action points and many others related to Board activities
Attend all internal Tender committee meetings
Review letters from other departments where any commitment is being made to ensure that the company is not tying itself to any legal obligation it does not intend to. 
Ensure all company documents are protected and filed as required by the Company law
Provide company information to authorised institutions that require the information.
Submit reports to Group on a monthly basis on significant matters
Perform Ad-Hoc duties as assigned by management.
Be responsible for maintaining the information security of MTN physical or information assets that they access, use, or manage as per the company policies.
Job Requirements: 
Bachelor's Degree in in Law.
License from the Bar Association.
Minimum of 3-4 years of relevant working experience.
Required Skills: 
Relationship Management skills.
Influencing and negotiation skills.
In depth understanding of the market
Closing Date: Tuesday, March 8, 2022
3.Specialist Special Events Sponsorship and On ground Activations KRT Region
Job Category:Marketing: Branding
Division: Marketing
Location: Al- Khartoum
Job Summary: 
To ensure smooth implementation and efficiency of company's events, sponsorships and on ground activations operations and follow up. Ensure maximum brand visibility and correct messages are implemented on all company's events in Khartoum region & sponsorships activations in all Sudan regions.
Description: 
Ensuring proper implementation to enhance brand experience and visibility through proper events & sponsorship selection (segments versus targeted areas) at the best ROI.
Bi-weekly reports on all internal and external special events, sponsorships and on ground activations happening (dates / venue / branding required / type of message / set-up / branded items etc).
Seeking, monitoring and evaluating new event and sponsorship opportunities (creating / developing new ideas / targeting the segment required).
Negotiations with external parties for the best event or sponsorship deal (i.e. maximizing all branding opportunities with least monetary funding in-coordination with the company's internal procurement department).
Negotiations with external parties for the best prices of catering / stage-light set-up / sound systems / venue rentals / entertainment activities / branding locations in the local markets (in-coordination with the company's internal procurement department).
Liaising with the Legal department in the issuance of all needed necessary documents for contracting vendors.
Ensuring approvals, contract administration, supplier's financial management, are followed thoroughly for optimum and timely results.
Ensuring internal and external events, sponsorships and on ground activations are handled and delivered within the time frame and with the best quality execution.
Maintaining and enhancing good relationship with external vendors for supporting events carried by the company.
Maintain good communication briefs for the brand & communication / outdoor team to deliver necessary artwork needed for the event.
Strict knowledge and implementation of MTN brand guidelines.
Ensuring signed-off approvals on all related artwork are taken and documented for reference.
Assisting road show and on-ground activations, in their requirements.
All the above is to be implemented on MTN events, sponsorships and activations done in Sudan.
Reporting and updating all the above to the line manager.
Be responsible for maintaining the information security of MTN physical or information assets that they access, use, or manage as per the company policies.
Job Requirements: 
Bachelor Degree in Business Administration (Marketing) .
Minimum of 3-4 years working experience in a related field.
Closing Date: Sunday, March 6, 2022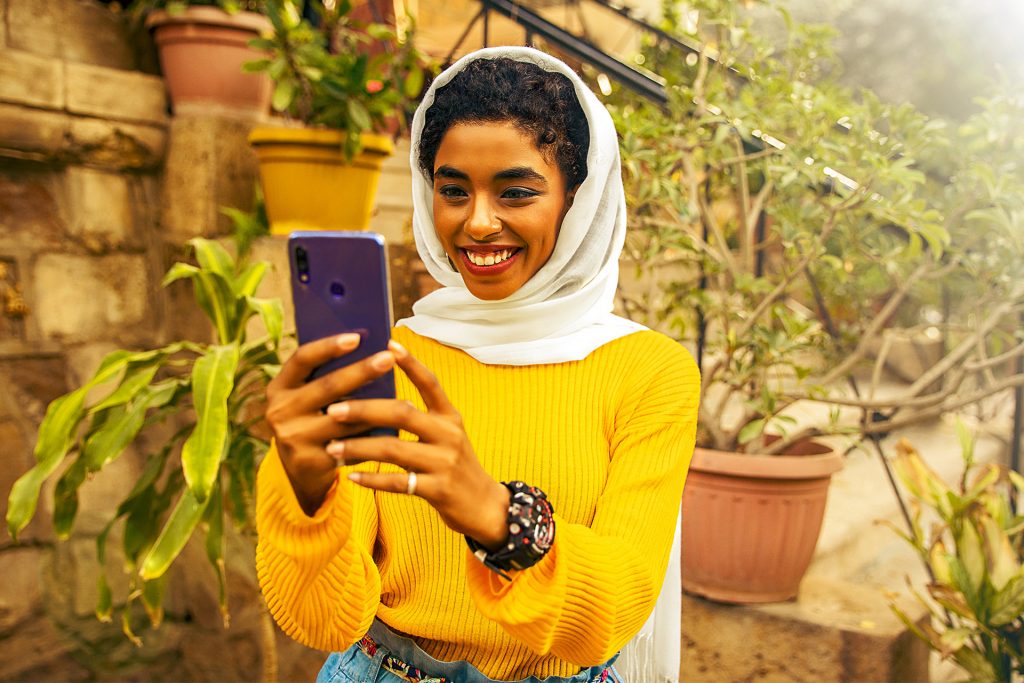 4.Specialist High Value Segment
Job Category:Marketing: Branding
Division: Marketing
Location: Al- Khartoum
Job Summary: 
Maximising the revenue potential of a delegated portfolio of existing MTN Data products & services and to develop profitable new Data products & services from concept through to product launch
Description: 
Summarize Data analysis with regards to Data Products & services.
Design and implement Data Products & services for different categories i.e. Individual & home
Use Market research to understand price elasticity of products within target segments.
Manage data on customer segmentation and profiling based on internal and external quantitative/qualitative research and reports from internal systems like Billing system, IN Platform, GGSN, SCG, Switch etc to manage profitability of products portfolio.
Analyse all sources of data to identify customer needs, requirements and behaviour which can be translated into profitable business opportunities i.e. Data Products & services.
Classify customer base in terns of usage, revenue, number of subscribers …etc.
Participate in defining Prices and the targeted segment for Data Products & services and recommend on how to penetrate the market and the way of communication channels that should be used.
Provide detailed daily, weekly and monthly reports on activation and sales for all Data Products & services that falls under his/ her responsibility.
Prepare of reports for all products that fall under hi/ her responsibility and having competitive insight over competitive actions done by other operators and the preparation of reports around that and find suitable resolutions for current ad expected competition activities
Manage Vendors/Partners to complete projects on time and within budget.
Monitor market for the latest development in technology, competition, usage and uptake trends, regulatory changes, etc. and identify the impact and/or application of such development on product strategy.
Analyse all sources of data to identify customer needs, requirements and behaviour which can be translated into profitable business opportunities
Propose, develop ideas for new propositions &/or products that satisfy business segment needs
Pull together the requirements identified during the requirements capture process and obtain stakeholder and management approval to the intended Service Proposal / Scope of Work
Work Closely with Engineering, IT, Finance, Customer Care & Sales departments in the performance of a full feasibility study in order to define and communicate the methodology by which the agreed functional requirements shall be delivered.
Provide properly assessed awareness and communication requirements and then work with communication team, direct and indirect channels to ensure such requirements are met on time.
Development of Promos that is related to Data Products & services portfolio and prepare reports and analysis and monitoring of the product life cycle.
Undertake other relevant duties/responsibilities as delegated by line manager
Be responsible for maintaining the information security of MTN physical or information assets that they access, use, or manage as per the company policies.
Perform ad-hoc duties assigned by management.
Job Requirements: 
Telecom Engineering / Computer Science / IT Background/ Business Bachelor degree level.
Relevant professional Marketing / Project Management /Business qualification.
1-2 years relevant experience .
Has responsibility of multiple products services.
Responsible for management of third party market research suppliers/contracts
Required Skills: 
Negotiation/contract management of external suppliers (2).
Planning and organizing skills (4) .
Highly developed skills in use of relevant IT packages including Excel, Word, Power Point ect.(4).
Design skills in research and evaluation (5)
Closing Date: Wednesday, March 2, 2022
5.Marketing Research Specialist
Job Category:Marketing: Communication
Division: Marketing
Location: Al- Khartoum
Job Summary: 
To assist in implementing MTN Sudan Market Research Roadmap and providing Market Competitive intelligence requirements
Description: 
Conduct  all in house research studies  and provide required output with  adherence to quality standards.
Analyse collected data using SPSS and or any other statistical package
Analyse raw data and produce final report with reference to agreed research objectives and deliverables
Assist in Presenting research and competitive reports to Marketing Management.
 Design questionnaires and sampling when needed
save hard and soft copies of Research and Competition reports documents
Submit required format of delivery (Raw Data, Full Report, PPT etc.)
File and keep all research documentation.
Deliver ongoing support, ensuring strong customer satisfaction, Manage customer expectations and project timelines.
Supervise outsourced Data Collection team.
Provide the Marketing team, and other colleagues, in filtering and delivering customer insights.
Analyse and validate independent research data, identify critical success factors and make corrective recommendations to management
 
Acquire Competition information from primary and secondary sources through research/ field survey/ mystery shopping as well as stakeholder information.
Creating external links with information bodies that can provide legal published information on competition i.e. customs, NTC etc. Produce daily, weekly, monthly competitive intelligence reporting and insight.
Track continuously competitor activities in terms of Products and services, promotions, network coverage and general news.
Conduct market research to analyse data, identify target market concentrations.
Meet department productivity and quality goals.
Conduct weekly/monthly and upon request reports.
Perform Ad-hoc duties assigned by management.
Supervise out-sourced Research and Competitive intelligence work.
Be responsible for maintaining the information security of  MTN physical or information assets that they access, use, or manage as per the company policies
Job Requirements: 
Bachelor Degree in related field.
Minimum 1-2 years experience in Marketing Research field
Required Skills: 
Influencing and negotiation skills.
In depth understanding of the market.
Strong analytical and reporting skills.
Strong planning ability and organizational skills.
Closing Date: Tuesday, March 1, 2022
Special Notice:
MTN Sudan provides equal opportunity, fair and equitable treatment in employment to all people without regard to, race, gender, social origin, color, age, disability, religion, conscience, belief, political opinion, culture, language, marital status, and family responsibility